CNN – Less than two years after Victoria's Secret pulled the plug on its star-studded annual fashion show, known for runway looks that combined strappy lingerie with enormous wings, the brand is retiring its supermodel "Angels" for good.
Taking their place is a new group of seven ambassadors, called the "VS Collective," who are known for their advocacy work in gender equality and body positivity, and who represent a wider range of body types and sexual and gender identities.
The collective — which includes soccer player Megan Rapinoe, actress Priyanka Chopra Jonas and plus-size model Paloma Elsesser — will work on new product lines and multimedia content, as well as supporting women's causes for the company, according to a press release. [Also included is 'transgender' model Valentina Sampaio.]
Candice Swanepoel (shown above on the left; age 31, measurements 34-26-34) is among the former Victoria's Secret supermodels deemed 'no longer culturally relevant.' Among the replacements for the former Angel are plus-size model Paloma Elsesser, (29, 44-37-46).
"This is a dramatic shift for our brand, and it's a shift that we embrace from our core," said Victoria's Secret CEO Martin Waters in a statement.
Waters was promoted in February, as Victoria's Secret's parent company, L Brands, attempted to sell it off to a private equity firm in a $525 million deal that ultimately fell through. (Victoria's Secret now has plans to become its own publicly traded company.)
...article continued below
On Wednesday, Waters told the New York Times that he doesn't see the Angels "as being culturally relevant" anymore.
The about-face comes after years of criticism that Victoria's Secret was promoting dated ideas of femininity and that its collections were made for a narrow range of body types.
According to Women's Wear Daily, the brand had a 19% market share in the US women's intimate apparel space as of December 2020, down from 32% in 2015.
Last year, L Brands announced that it was shutting a quarter of Victoria's Secret stores, and more followed earlier this year.
Chantal Fernandez, a senior correspondent at trade publication The Business of Fashion, said via email:
...article continued below
"Especially over the last five years, public criticism of Victoria's Secret's narrow and exclusive beauty ideals has been building and its sales started to decline … "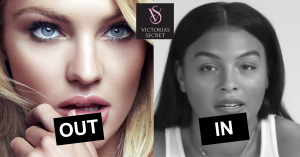 Click here to read more.