WOMEN'S HEALTH – Ella Emhoff may only be 21, but she's already making her mark on the fashion world. She is Second Gentleman Doug Emhoff's daughter and Vice President Kamala Harris' stepdaughter.
A recent graduate of The New School's Parsons School of Design in New York City, Ella is now a model, a designer, and a bit of an accidental superstar. She became a style icon overnight after her Miu Miu and Batsheva inauguration outfit went viral, per Insider.
No wonder her parents are singing her praises. "My darling Ella, we are such proud parents! We love you so much, and are very much looking forward to all you do in the future," Emhoff wrote in a congratulatory Instagram post on her graduation day.
You've gotten to know her "Momala" much better this last year, so here's everything you should know about Ella Emhoff
Ella has a lot of tattoos.
Ella is a big fan of body art, and I mean big. She told The New York Times that she has at least 18 different tattoos, although she admits she's lost count by now. But there are at least a few that her parents "may not know about"—oops!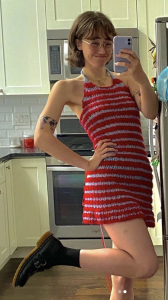 ...article continued below
She doesn't always go to a pro for her ink. Ella started giving herself tattoos during quarantine:
"I did the classic. I did my dog's name, and I did a little flower. I recently did my first big boy: [a] salmon fish with a flower hanging out of its mouth."
Ella was signed as a model earlier this year.
In January, just days after the inauguration, Ella was signed as a model with IMG Models Worldwide, per Insider.
The company is famous for representing iconic supermodels like Gigi and Bella Hadid, Karlie Kloss, and Ashley Graham.
Then, Ella made her debut on the runway walking for Proenza Schouler at New York Fashion Week …
...article continued below
Read more and see Ella's pics here.
Ella Rose Emhoff
From Wikipedia, the free encyclopedia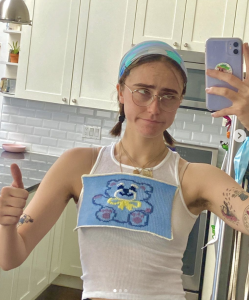 Born: May 29, 1999
Education: Parsons School of Design
Occupation: Fashion designer, model, artist
Height: 5 ft 8 in
Political party: Democratic
Parent(s): Doug Emhoff (father), Kerstin Emhoff (mother), Kamala Harris (stepmother)
Ella Emhoff is an American model, artist, and fashion designer. As the daughter of U.S. Second Gentleman Doug Emhoff and stepdaughter of U.S. Vice President Kamala Harris, she is a member of the Second Family of the United States.
Emhoff was born to Doug Emhoff, an entertainment lawyer, and Kerstin Emhoff (née Mackin), a film producer. She was named after the jazz singer Ella Fitzgerald. Her father is Jewish, but a spokesperson for Ella Emhoff clarified that "Ella is not Jewish." She has an older brother, Cole Emhoff. Her parents divorced in 2008.
In August 2014, her father married Kamala Harris, a lawyer who was then serving as the Attorney General of California. Emhoff and her brother coined the term "Momala" for their stepmother.
Emhoff, whose family are members of the Democratic Party, was raised around politics. She and her family, as supporters of same-sex marriage in California, were active in fighting against the 2008 California Proposition 8.
In 2016, her stepmother was elected to the United States Senate, representing California. In 2021, she became a member of the second family when her stepmother was sworn in as the Vice President of the United States.
Emhoff graduated from Wildwood School, where she was a member of the swimming and basketball teams, in 2018. She was a student at the Parsons School of Design in New York City, where she majored in fine arts with a concentrated focus in apparel and textiles, and she graduated in May 2021. Read more here.