May 16, 2020
Fox News – NASCAR drivers are set to take the wheel for the first time since the coronavirus pandemic gripped America.
Appearing on "Fox & Friends Weekend," team owner Richard Childress said Sunday's "The Real Heroes 400" race will be great for all sports fans across America:
"This is going to be the first time we've been on the track since March 8th … When they drop that green flag, those drivers are going to drive off into turn one and it's going to be exciting." 
Childress said drivers have both closely followed COVID-19 health guidelines and maintained a track-ready fitness regimen.
...article continued below
He also said NASCAR will be auctioning off one of Dale Earnhardt's cars on Barrett-Jackson online to raise money for charity:
"We need more bidders. It's up to $255,000 right now. And, I think that if we could get it 300,000 to 400,000: I'm donating all of that money. The checks will be written right directly to Feeding America and also to Samaritan's Purse for our first responders and to feed America … But, the biggest thing you're doing: you're helping [to] feed Americans and [you're] working with our first responders."  Read more. 
Barrett-Jackson Lot #200 – 1996 CHEVROLET MONTE CARLO #3 DALE EARNHARDT NASCAR RACE CAR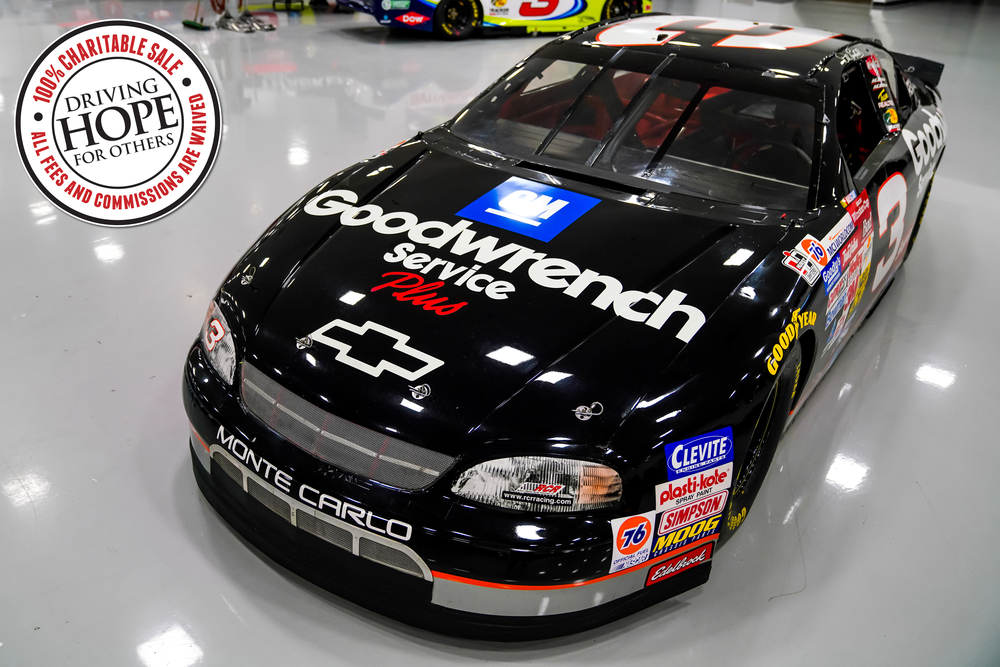 Lot #200 – An original No. 3 Chevrolet driven by Dale Earnhardt, from the personal collection of legendary NASCAR team owner Richard Childress.
This marks the first time that Childress has parted with an original Earnhardt car from his collection. The tube-frame stock car, replete with a 358ci V8 NASCAR engine and a 4-speed manual racing transmission, was built for short and intermediate oval-track competition.
Earnhardt made select NASCAR Cup Series starts in this Chevrolet at tracks such as Bristol Motor Speedway, Dover International Speedway, Rockingham Speedway and Darlington Raceway between 1996 and 1999.
...article continued below
Highlighted by a win at Rockingham Speedway in 1996, Earnhardt did not finish worse than fourth with Chassis No. 22 in its first three on-track appearances.
**ADDED BONUS: The winning bidder will receive VIP treatment from Richard Childress himself upon visiting the Richard Childress Racing campus in Welcome, NC, to pick up the car. The package includes an exclusive, VIP tour of Richard Childress Racing in Welcome, NC; lunch with Richard Childress at Childress Vineyards, an award-winning winery in Lexington, NC; a personalized case of Childress Vineyards wine and photo opportunities with Richard Childress.**
**NO BUYER'S FEE: 100% OF HAMMER PRICE TO BENEFIT FEEDING AMERICA AND SAMARITAN'S PURSE – COVID-19 RESPONDERS**
**OUR VALUED PARTNERS AT RELIABLE CARRIERS HAVE GENEROUSLY OFFERED TO SHIP THIS VEHICLE AT NO CHARGE FROM ITS LOCATION IN LEXINGTON, NC, TO THE WINNING BIDDER ANYWHERE IN THE CONTINENTAL UNITED STATES** **SOLD ON BILL OF SALE ONLY**
UPDATE: THE CAR SOLD FOR  $425,000
ALSO ON HEADLINE HEALTH TODAY:
Santana Family Mourns Guitarist's Passing
$3T Spending Bill Mentions Cannabis 68 Times, Jobs Only 52