by DANIELLE HARLING, JUN 16, 2022
DELISH – Like many holidays, food plays a vital role in Juneteenth festivities. While typical Juneteenth fare is heavy on flavor, it also boasts a rich history that helps tell the story of Emancipation Day. Here's what you should know about food and drink on Juneteenth.
What Role Does Food Play?
A celebration isn't complete without a spread of dishes that have been cooked with love, and Juneteenth is no different.
During Juneteenth, food is there to nourish, but it's also present for more symbolic reasons. You can't talk about food on Juneteenth without discussing soul food, red foods, and prosperity meals.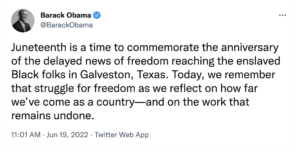 What Is Soul Food?
...article continued below
With roots in America that date back many decades, soul food undoubtedly needs to be on the menu on June 19. But what exactly is soul food?
It's a cuisine that's traditionally prepared and enjoyed by African-Americans in the Southern United States.
It usually consists of dishes that incorporate beans, greens, cornmeal, and pork. Each of those key ingredients can be used to create a number of soul food staples like cornbread, fried fish, stew, and the not-always-fan-favorite, chitterlings.
What Is The Significance Of Red Food On Juneteenth?
There's a richness and exuberance in the color red that resonated for those who first celebrated Juneteenth. Interestingly enough, there is also a more diaspora-driven reason why the color red is so important to Juneteenth dishes.
Culinary historian and writer Michael Twitty shared with Oprah Daily:
...article continued below
"Texas was at the end of the world to the Antebellum South. There were a lot of enslaved Africans who were coming to Texas from the continent and through the Caribbean.
The color red is highly associated with the cultures that would've come through the later years of the trade, which would have been Yoruba and Kongo" …