HUFFPOST – We spend so much time sitting on them that we often neglect pampering them the same way we do the rest of our body.
They're there for us whether we're sitting on the toilet, at our desks or lounging poolside. We're talking about butts. When is the last time you gave yours some quality TLC?
Over the past few years, there's been a rise in brands offering butt masks, showing us that skin care masks aren't just for our faces anymore. But as with every skin care trend, the lingering question remains: Are butt masks actually worth the buy or just a rather unique gimmick?
To get to the bottom of whether butt masks are a necessary addition to your routine, we reached out to Dr. Lindsey Zubritksy, a Mississippi-based board-certified dermatologist.
What exactly are butt masks?
"Butt masks are exactly what they sound like: skin care masks for your buttocks. Similar to a face mask, these masks help to address any and all concerns involving skin of the buttocks," Zubritsky said.
What are the benefits of butt masks?
...article continued below
″These masks can brighten, moisturize, exfoliate and improve the tone and texture of the buttocks skin. This is especially important for those who suffer from certain skin conditions," Zubritsky said.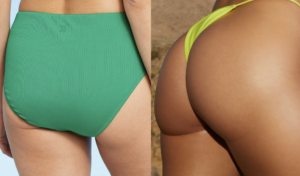 For example, if you suffer from acne, folliculitis or keratosis pilaris, you'd benefit from a butt mask that properly exfoliates the skin. Some masks may contain ingredients like alpha or beta hydroxy acids which can address these concerns. And if your bum runs drier or your skin is dull, you'll want to reach for a moisturizing butt mask.
What is the best butt mask to use?
Zubritsky said she loves Megababe's Le Tush clarifying butt mask, which contains a blend of glycolic, malic and azelaic acid. She says these are incredibly effective ingredients at improving dark spots.
"It's great for those who suffer from discoloration, hyperpigmentation or just want to brighten up their skin," she said.
In addition to its exfoliating ingredients, Le Tush also contains botanical extracts and oils including kelp and eucalyptus to moisturize skin, resulting in smooth, soft skin …
...article continued below