YAHOO! NEWS – Billie Eilish says she lost social media followers after she started sharing more of her body.
Eilish rose to fame while sporting oversized sweatshirts and baggy pants, but lately has been exploring more form-fitted styles.
In a recent Instagram post, she sported a corset with a lace bra underneath — something that drew the ire of trolls who disapproved of the change.
Eilish told Elle magazine,
"People hold on to these memories and have an attachment. But it's very dehumanizing. I lost 100,000 followers, just because of the boobs. People are scared of big boobs."
"Suddenly you're a hypocrite if you want to show your skin, and you're easy and you're a slut and you're a whore."
...article continued below
This isn't the first time the Grammy winner has spoken out about how her changing style has led to backlash.
In May, the artist told British Vogue that she was done with playing by anyone else's rules for how she should dress.
That photo spread, in which she first appeared looking pinup-style glam — posting plenty of corset-and-lingerie followup shots on her Instagram — upset many fans apparently not ready for the style change.
"Suddenly you're a hypocrite if you want to show your skin, and you're easy and you're a slut and you're a whore," she explained to Vogue … READ MORE.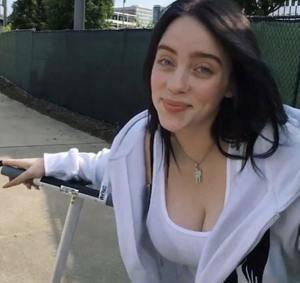 Real health issues caused by large breasts
While you might be yearning to fit into bigger bras, the truth is that large breasts come with their own disadvantages.
...article continued below
By Nikita Bhardwaj, HealthShots, 27 June 2020
Have you ever wished to have fuller boobs? Come on, don't lie! According to a global survey published in the journal Body Image, majority of the women are unhappy with the size of their breasts.
But if your dissatisfaction is coming from the fact that your breasts are smaller than what you'd like them to be, then let us tell you: big boobs might add an oomph factor to your appearance, but they also come with some disadvantages.
In fact here are five health problems that women with big breasts tend to face:
1. Bigger breasts can make your back hurt real bad
Big boobs might give a nudge to your appearance but they also mess with your posture and spine motion, especially when you are standing. This has been verified by a study published in the Journal of Back and Musculoskeletal Rehabilitation.
2. It can make your arms go numb
Well, this might not be the case with all women, but many complain of numbness around the armpits.
According to a study published in The Journal of Supportive Oncology, women with big breasts tend to feel numbness in the nipples as well. The study also suggests that due to heavier breasts, tingling in upper arms is very common.
3. Exercising is a pain too
Sports bras are of no help when you have big breasts. When you do high-intensity exercises like jumping jacks, burpees, or high knees, it leaves the door open for wear and tear of the breast tissue … READ MORE.