GLAMOUR – Kylie Jenner, makeup mogul, mom, swimwear saleswoman, has joined the Free the Nipple movement, a sorta-kinda social media protest.
As you probably know, Instagram censors "female" nipples but not male nipples, which many see as a sexist double standard that arbitrarily shames half the population.
Anyway, that's what Jenner used as the caption for a picture she posted to Instagram of herself sunbathing in a bikini top that bears the image of, well, nipples!
NSFW? But also…SFW?
You decide … scroll down to see the full pic, and be sure to COMMENT BELOW after viewing.
...article continued below
NEXT: You may have looked in the mirror and thought to yourself, are my nipples normal?
Doc Talk: Are my Nipples Normal?
Women's Health Connecticut – Nipples come in all shapes, textures, sizes, and colors, but we often don't talk about what we should be aware of when it comes to breast and nipple health. This could leave people with questions about if their nipples are normal, so we spoke to Tracey Gilhuly, APRN, of Comprehensive Gynecology of CT, a Women's Health Connecticut practice, to answer some of your questions.
Why do my nipples hurt?
There could be several reasons why your nipples could be causing you pain, such as poorly fitted clothing, certain skin conditions, menstrual periods, pregnancy, breastfeeding, and certain infections.
It is always better to be safe than sorry, so please contact your provider if you are experiencing unusual nipple pain or intense pain as it could be a sign of something more serious. READ MORE.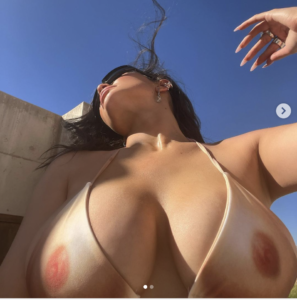 DOES KYLIE'S GRAPHIC NIPPLE TOP GO TO FAR? 
YES — HER TOP IS INDECENT AND SHOULD NOT BE WORN. 

NO — IT'S A FREE COUNTRY, LEAVE HER ALONE.

OTHER — POST YOUR OWN VIEW
Comment below. 
...article continued below
[CIVIL DISCUSSION ONLY]