NY POST – An investigation is still ongoing into the Florida crash that left driver John Hopkins dead.
A Florida man died after crashing his car into a massive 11-foot alligator in a roadway early Thursday, authorities said.
John Hopkins, 59, was driving eastbound on County Road 672 in Lithia at about 12:30 a.m. when his vehicle plowed into the huge reptile in the middle of the road, according to the Hillsborough County Sheriff's Office.
Hopkins' car veered off the road and overturned in a nearby ditch. A passing motorist spotted the wreck and called 911, sheriff's spokesman Marco Villarreal told The Post.
Responding deputies pronounced Hopkins dead at the scene. The 11-foot alligator also died in the wild wreck, sheriff's officials said.
...article continued below
An investigation is ongoing and officials may release footage of deputies as they arrived at the crash site, Villarreal said… READ MORE. 
"Mind If I Play Through?" Huge Gator Visits Florida Fairway
A number of Florida golfers ceased play briefly to allow the giant alligator to cross
by Marteli Brewis, 26 Mar 2022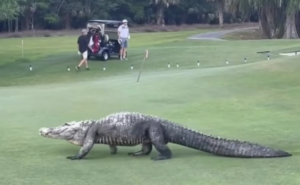 Golfers were reminded of the hilarious Adam Sandler golf movie, Happy Gilmore, recently, when an enormous three-footed gator invaded a Florida golf course. Somehow, the golfers who were near the beast didn't even flinch!
The movie-like scene happened on a hole at Bonita Bay and video footage of the bizarre event is going viral. The creature's trek across the beautiful green grass, shot by a witness on the course, is surreal.
...article continued below
In it, viewers can see a gator with a missing right front foot plodding along the turf while several golfers in the distance either was blissfully unaware of the visitor or acted as if there was nothing going on.
People behind the camera, though, gawked at the gator as it moved slowly along, with multiple people noting its missing foot. The gator seemed quite comfortable on the move, though, despite the missing appendage, generally oblivious to the men and women wearing playing golf.
Not golf's first Jurassic moment Matt Devitt of WINK Weather wrote on Facebook: "Check out this big boy walking across a Bonita Bay golf course this past weekend from a WINK viewer. Welcome to Jurassic Park!" … read more.