ELLE – Florence Pugh isn't one to sit tight when the trolls come calling—and we love her for it.
Just weeks after she called out salacious headlines claiming she was dating a longtime friend she was merely pictured with, Pugh has come back out with another massive "f–k you" to trolls over a dress she wore to Valentino's Haute Couture show in Rome over the weekend.
The bright pink dress was made of sheer material, which revealed her nipples beneath. Sharing the picture to Instagram at the event, Pugh accurately noted in the caption, "Technically they're covered?"
Miraculously, the post hasn't yet been taken down by Instagram, which still (yes, still) has a "no female nipple policy", but that didn't stop the trolls from rushing to chime in with unwarranted comments about Pugh's body.
Ever the powerhouse, Pugh was taking precisely none of that commentary. Less than a day later, she took to Instagram once again to share several more pictures of herself in the dress alongside a poignant caption.
"I've lived in my body for a long time. I'm fully aware of my breast size and am not scared of it."
...article continued below
"Listen, I knew when I wore that incredible Valentino dress that there was no way there wouldn't be a commentary on it. Whether it be negative or positive, we all knew what we were doing. I was excited to wear it, not a wink of me was nervous. I wasn't before, during or even now after."
She then called out the troubling ease in which men often call out women's bodies with no regard.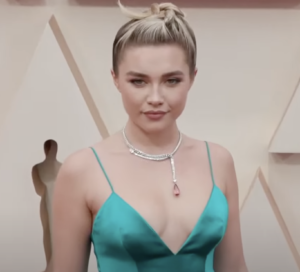 "What's been interesting to watch and witness is just how easy it is for men to totally destroy a woman's body, publicly, proudly, for everyone to see. You even do it with your job titles and work emails in your bio..?" Pugh continued.
"It isn't the first time and certainly won't be the last time a woman will hear what's wrong with her body by a crowd of strangers, what's worrying is just how vulgar some of you men can be. Thankfully, I've come to terms with the intricacies of my body that make me, me. I'm happy with all of the 'flaws' that I couldn't bear to look at when I was 14."
"So many of you wanted to aggressively let me know how disappointed you were by my 'tiny tits', or how I should be embarrassed by being so 'flat chested' … READ MORE. 
SEE ORIGINAL COPYRIGHT-RESTRICTED PHOTOS HERE. 
...article continued below
ICYMI: Kylie Jenner Wore a Nipples-Forward Bikini Top