Joe Biden's health is again under the spotlight after a clip showed him appearing to lose his train of thought while answering questions about Israel's war with Hamas.
Speaking to journalists on Air Force One after a brief visit to Tel Aviv, the 80-year-old appeared confused as he paused while struggling to find the right words.
The video circulating on social media has re-opened the debate of whether the US president is fit to run for office against Donald Trump in next year's election.
A poll for broadcaster NBC in June revealed 68% of voters surveyed said they are concerned that Biden may not have what it takes o be president, 55% of who said they have "major" concerns.
"Biden is gone, he's checked out, and he's an empty shell."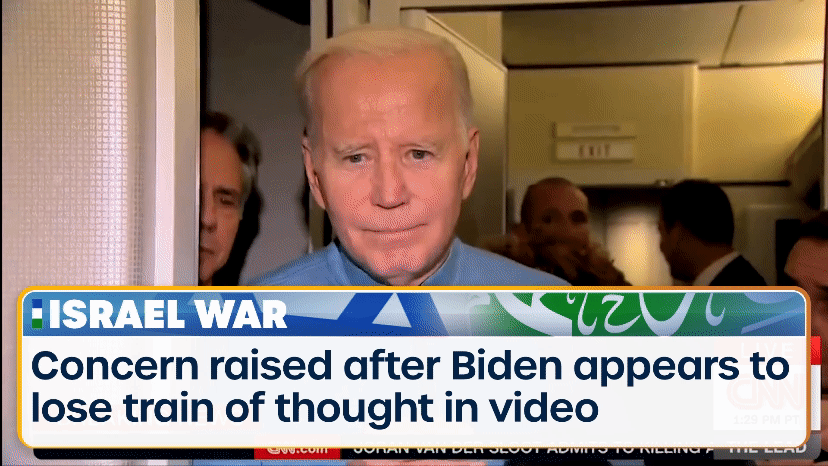 One commentators wrote: "Biden is gone, he's checked out, and he's an empty shell. Will the NY Times, CNN, and MSNBC report on just how serious this is?"
...article continued below
Another defended the president's 'thoughtful' response: "I see a man deep in empathetic thought whose heart is broken overt the conflicts around the world and in our country."
TalkTV's Isabel Oakeshott said of the video: "I don't see him ultimately leading [the Democrats] into the next election, I think that there will be some kind of deal and maybe it will be a Michelle Obama or someone else.
"Can you imagine if this was President Trump, who was behaving like this, who was not in possession of his faculties in this way? Can you imagine the outcry from the establishment in America, there is no way that they would tolerate this.
"This guy is just a wounded puppet, isn't he?'
...article continued below
[PLEASE NOTE: OUR COMMENT POLICY DOES NOT PERMIT RIDICULING OR DISPARAGING PEOPLE DUE TO THEIR PHYSICAL OR MENTAL ILLNESS, INCLUDING SEVERE COGNITIVE IMPAIRMENT AND ADVANCED SENILITY.]