CNN – Buffalo Bills wide receiver Cole Beasley, in a challenge to the National Football League's new Covid-19 training camp and preseason protocols, tweeted that he'd rather retire than get a vaccine.
Beasley wrote in a post Friday that he called a "Public Service Announcement":
"Everyone — Hi, I'm Cole Beasley and I'm not vaccinated! I will be outside doing what I do. I'll be out in the public.
"If your scared of me then steer clear, or get vaccinated. Point. Blank. Period. I may die of covid, but I'd rather die actually living."
The defiant tweet comes on the same week the NFL sent teams a memo highlighting different protocols for vaccinated and unvaccinated.
...article continued below
The league relaxed protocols for players and staff who are fully vaccinated — including the loosening of Covid-19 testing to once every two weeks, and lifting the face-covering requirement at club facilities or during travel.
Additionally, vaccinated players and staff who come in close contact with someone who tests positive will not be required to quarantine.
League minicamps opened this week. Teams that reach or surpass the 85% vaccination threshold may relax mandated health and safety protocols.
Tampa Bay Buccaneers head coach Bruce Arians told reporters on Thursday:
"Everybody's tired of meeting out here and eating outside and doing all those things we had to do last year" … Click here to read more. 
Unvaccinated NFL players will have a much, much more difficult season under new rules
Players can still choose not to get vaccinated, but they're not free from consequences.
...article continued below
By James Dator Jun 16, 2021
SBNATION – The NFL and NFLPA have issued Covid-19 guidelines for players ahead of the 2021 season, and life will be very, very different for players who decide not to get vaccinated, from those who do.
A joint agreement between the league and the union, sent out to teams this week details how players are allowed to operate if they receive the vaccine compared to those who don't. Here is the full list of restrictions players will adopt this season …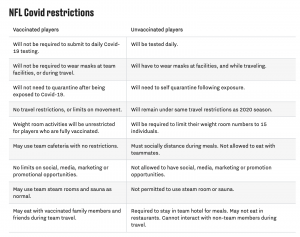 Click here to read more.