CNN, February 26, 2021
A woman was killed instantly when a tire flew off another vehicle and hit her car's windshield in New Caney, Texas, on Thursday.
KTRK reported the 52-year-old woman was driving home from her son's baseball game when the left front tire and wheel flew off a Dodge pickup truck headed in the opposite direction.
The tire flew over the concrete median and struck the mother as she was driving her GMC SUV.
She was killed instantly, while her 17-year-old son, who was asleep in the front passenger seat, was taken to a hospital with serious injuries …  
...article continued below
The National Highway Traffic Safety Administration has warned that when tires are not kept at the recommended pressure, it can lead to rapid wear and blowouts, which cause accidents.
738 people were killed by tire-related car accidents in 2017 and only 19% of consumers properly inflate their tires.
The NHTSA recommends checking tire pressure monthly, not ignoring tire pressure warnings and to regularly rotate tires to protect their tread … Click source below to read more. 
Avoid Tire Blowouts: What to Look For
By Jocie on June 2, 2017
DANA MEYER AUTO CARE – A few quick tricks on what to look, listen and feel for can help keep your tires [along with yourself and other motorists] alive longer.
...article continued below
Knowing what to look for can prevent any major blow-outs leaving you stranded on the side of the road.
Keep the Pressure Up
Inflate inflate inflate! Always keep your tires inflated to the manufacturer recommended PSI printed on a sticker in the door jam of the driver's side door.
The PSI stamped into your tire's sidewall is the maximum pressure the tire can withstand. Under-inflation is the most common cause of a blowout.
Keeping your tires at the proper pressure will also help you get the best gas mileage possible. Win for your car, and your wallet!
TPMS light Tire Pressure Monitoring System (TPMS)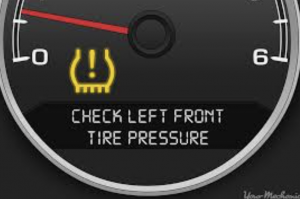 Most vehicles made after 2007 have a pressure monitoring system that will warn you if any of the tires go lower than the specified amount.
One problem however, is that it may not warn you if you're just slightly under-inflated, and even that small amount can do damage over time. It's a good idea to manually check the tires once a month … Read more.