DogsBite.org – Of the 51 dog bite fatalities recorded in 2021, 53% (27) had some form of an identification photograph.
Our nonprofit was responsible for capturing 74% of them. Pit bulls and their mixes represent 63% of images collected in 2021.
Of the 27 cases with breed identification photographs, 48% (13) comprised images captured or republished by news media; 63% (17) comprised images located on social media pages of the dog's owner or family members; and 74% (20) comprised images that were the result of DogsBite research and otherwise may have gone unpublished.
Police and animal control agencies only released images in 1 case, yet 80% of all deaths (41 of 51) involved dogs taken into quarantine.
(Percentages are higher than 100% due to a single death containing multiple photographs, each attributed to a different source, as well as images that fall into overlapping publishing categories.)
Identification Photographs (2013-2021)
...article continued below
From 2013 to 2021, images captured by our nonprofit have risen from 26% to 74%. Images captured by media have fallen from 79% to 48%.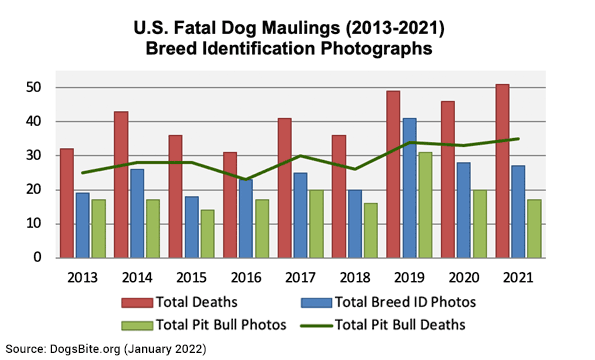 Chart shows 9 years of breed identification photograph collection between 2013 and 2021.
---
Breed Misidentification Conflicts
In 2021, there were several breed misidentification conflicts. After Tiffany Frangione was killed by her own dogs in her backyard, partially sourced media reports identified them as a "cane corso" and an "Alaskan husky-mix." Those claims likely came from Frangione's social media pages where she mislabeled her own dogs. "Rachirius," a male, was also described by Frangione as a "bandog" and "rednose." She described the female, "Masha," as a "husky-golden retriever mix."
We designated Rachirius a pit bull-cane corso mix, predominantly pit bull, and Masha a shepherd-type mix — not a "working sled dog-type."
...article continued below
After Leann Gratzer was killed by three dogs belonging to her daughter and her daughter's roommate, the canines were identified as two male pit bulls and one female mixed-breed by Franklin County Sheriff Steve Pelton.
However, the daughter identified the female dog as "my baby girl" and "a red/brown pit" that took off in September "after a storm scared her" because she was not wearing her invisible fence electric collar. We designated this female dog a pit bull-mix.
In 2021, pit bulls (35), American bulldogs (2) and cane corsos (2), along with 4 deaths inflicted by rottweilers, once again dominated the top killing breeds. Combined, these breeds are responsible for 84% of all deaths in 2021. When breed was known (48 of 51 deaths), only 5 fatal attacks, 10%, involved dogs of other breeds.
This same group of powerful molosser breeds also accounts for 84% (477 of 568) of all dog bite-related deaths in the 16-year data set of 2005 through 2020.
Summary
In 2021, 53% of dog bite fatality cases had some form of a breed identification photograph, a fall from the 8-year average of 63% (2013 to 2020). Our nonprofit captured nearly three quarters of them in 2021, 74%, through our research efforts. Breed identification photographs captured by media groups jumped to 48% this year as well, a 92% increase from the first pandemic year of 2020, when media captured breed images fell to 25%, the lowest ever captured by news media.
The decline of identification images released by law enforcement and animal control agencies, however, remained steady. Though providing over a quarter (28%) of the total breed identification photographs between 2013 and 2015, this has shrunk to only 4% over the last two years. To place this into perspective, dogs were seized and taken into quarantine in 41 of the 51 dog bite fatalities in 2021. Authorities only provided a breed identification photograph after 1 of these deaths.