The Western Journal – The Republican Party of Washington County, Pennsylvania, issued a statement Monday on Facebook calling for Sen. John Fetterman to appear on camera to "show us he is alive and well."
Washington County, in the far southwest of Pennsylvania near Pittsburgh, is home to 200,000 residents, or about 1.5% of the state's population.
Party chairman Sean Logue wrote on Facebook:
"Because of the now confirmed lies that were told during the 2022 general election regarding the health of Senator John Fetterman, as well as the threats made against a journalist who interviewed him, the Washington County Republican Party refuses to take assurances from the Office of the Senator or Democrat operatives that Fetterman is able to carry out his duties as Senator … "
Fetterman's Office Fuels Concerns over Condition of Reportedly Brain-Dead Senator
'We understand the intense interest in John's status… '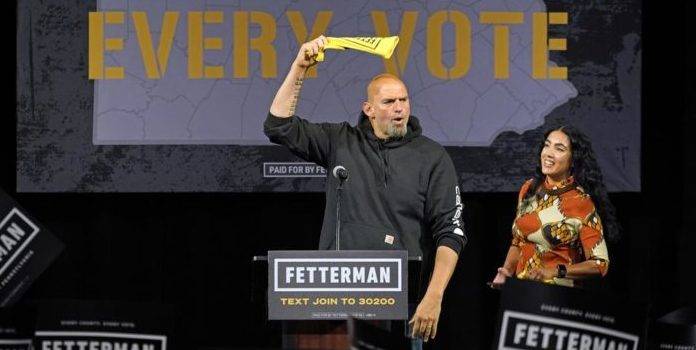 ...article continued below
(Mark Pellin, Headline USA) In the wake of allegations that stroke victim Sen. John Fetterman, D-Pa., recently hospitalized for depression, had been declared clinically brain-dead, the Senator's spokesman fueled speculation about his boss's condition with a cryptically upbeat Twitter thread that failed to address the shocking claim.
"We don't have a lot to update folks with since there's no real news to report except that John is doing well, working with the wonderful doctors, and remains on a path to recovery," wrote Fetterman spokesman Joe Calvello.
That was in stark contrast to a report from John Cardillo, a former NYPD officer turned conservative radio host and social-media influencer. Over the weekend, he called for an investigation into whether Fetterman may be clinically brain-dead as Democrats engaged in a cover-up to avoid a special election before August.
While there is debate on any potential special election date, Cardillo's tweet on Fetterman's dire health went wildly viral and would have been hard to miss by Fetterman's office, which dodged the issue entirely and provided only platitudes and assurances.
The statement and its guarantees rang hollow coming from a campaign that actively suppressed critical information on Fetterman's health before and during the midterm cycle, and after he was rushed to the hospital last month feeling "lightheaded." He was released but quickly re-admitted, allegedly for being clinically depressed.
His handlers have since declined to provide the public with any updates, until his spokesman's opaque tweet, which only fueled further speculation and concern.
...article continued below
Sean Logue, chairman of Pennsylvania's Washington County Republican Party, demanded transparency, reportedly writing that it "refuses to take assurances from the Office of the Senator or Democrat operatives that Fetterman is able to carry out his duties as Senator."
In a Facebook post Monday, Logue reportedly wrote that the group called "upon Senator Fetterman to appear on camera to show us he is alive and well, and if he is unable to do so," they urged lawmakers to take action.
"Ultimately, if Fetterman is unable or unwilling to carry out his duties as a United States Senator, then we ask for his resignation and call for a special election to be held this year; no more lies or games," wrote Logue.
A similar reaction to Fetterman's latest press release and its health assurances broke on Twitter.
Fetterman's spokesman didn't come close to answering that question, offering only that everything was fine.
"He is visiting with staff and family daily, and his staff are keeping him updated on Senate business and news," Calvello wrote.
"We understand the intense interest in John's status and especially appreciate the flood of well-wishes. However, as we have said this will be a weeks-long process and while we will be sure to keep folks updated as it progresses, this is all there is to give by way of an update."
What Fetterman's handlers deemed as "all there is to give," left constituents demanding more.
"Pennsylvania citizens deserve to know the truth about our Senator and when or if he will ever return to work," noted one comment. "There doesn't seem to be a mechanism to remove him from office for physical or mental incapacitation. And the rumors that #Fetterman is brain dead are frightening."
Copyright 2023. No part of this site may be reproduced in whole or in part in any manner without the permission of the copyright owner. To inquire about licensing content, use the contact form at https://headlineusa.com/advertising.