CNN – Multiple protests, a popular petition, a legal action and a small fire have not been enough to stop the city of Palm Springs from installing a supersized and "hyper-sexualized" Marilyn Monroe sculpture on a public site next to the Palm Springs Art Museum.
On Sunday, city council members presided over a dedication ceremony for the sculpture by late artist Seward Johnson known as "Forever Marilyn" — or #metoomarilyn by those who find it exploitative — that shows the actress with her white dress flying up above her waist.
There was no damage from the fire, which took place ​10 days ago when welders were working on sculpture and some bubble wrap started smoking.
The last four directors of the museum have publicly opposed its placement there, as have a number of activist groups, including CReMa (the Committee to Relocate Marilyn) and the Women's March LA.
Both of these groups sent protestors to the dedication ceremony with chants that drowned out some of the speakers.
...article continued below
"It was nonstop chanting, both pro and con — you couldn't really hear the speakers," said realtor Chris Menrad, who co-founded CReMa with the Palm Springs fashion designer Trina Turk. "The goal of us being there was basically to disrupt the event and communicate our displeasure."
The city council, which voted unanimously to place Marilyn in this location … Click here to read more. 
While a statue of Marilyn Monroe striking an icon pose from the 1950s is deemed offensive, "Drag Queen Story Time" is now normal and desirable:
DRAG QUEEN STORY TIME, OTHER PRIDE MONTH ACTIVITIES FEATURED AT OKC LIBRARIES
Oklahoma Council Of Public Affairs – In keeping with the nationwide trend, the Oklahoma City Metropolitan Library System is once again hosting Pride Month activities at all 19 of its branch locations throughout the month of June.
Numerous activities, videos, and suggested readings are included, many of which are geared toward young children and families. Patrons can also obtain yard signs proclaiming Pride Month.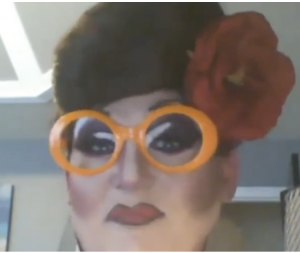 ...article continued below
The library's children's activities include making rainbow collages, pride flag rainbow crowns, and "pronoun pins," as well as story times with special books supporting same-sex attraction and alternative gender roles.
In celebration of the gay and lesbian community, Pride Month was first recognized nationally in 2000 by former President Bill Clinton, and June was officially designated as Pride Month in 2009 by former President Barack Obama.
Since then, it has grown to include parades and multiple other activities in communities across the United States and beyond. As currently defined by most advocate groups and the media, the original designation has expanded to its current LGBTQ2S+ acronym, which stands for "lesbian, gay, bisexual, transgender, queer or questioning, and two-spirit," plus additional sexual orientations and gender identities.
"As a welcoming and affirming space for our LGBTQ2S+ community, our library locations have been creating Pride displays and hosting Pride programs for years," said Jessica Gonzalez, manager of the Metro Library System's Engagement and Program Services … Read more.