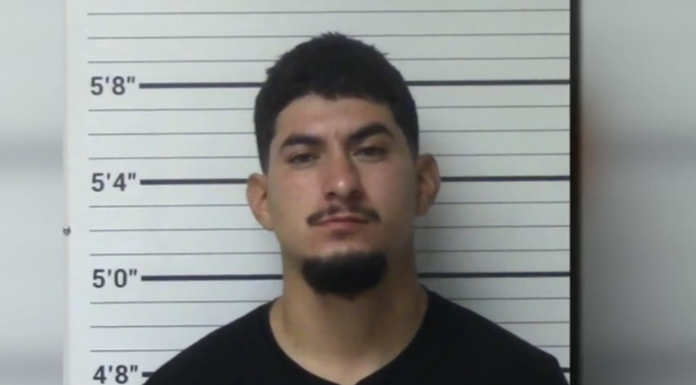 Ivan Robles Navejas | Image – KTBC Fox 7 Austin
Illegal Granted DACA Status by Obama Kills Four Police, Veterans in DUI Crash
Prior arrest for "pinning a man with a vehicle in a parking lot, physically assaulting him, and biting off a portion of his ear…"
September 3, 2020
Headline USA – After the Obama administration and Deferred Action for Childhood Arrivals protected a criminal illegal alien from deportation, he went on to kill four veterans and law enforcement officers.
...article continued below
Nine Republican Senators asked for details about this negligence in a letter to the acting director of Immigration and Customs Enforcement and the Deputy Director of Citizenship and Immigration Services.
"As is so often the case, this tragedy was completely avoidable had this nation's immigration laws been enforced as they should have been during the Obama administration," wrote the senators, led by Chuck Grassley, R-Iowa, and Marsha Blackburn, R-Tenn.
Mexican national Ivan Robles Navejas, 28, killed four people in the Thin Blue Line Law Enforcement Motorcycle Club on July 18 in a head-on drunk-driving accident, The Washington Times reported. Among the dead are a retired lieutenant colonel in the U.S. Army, a retired police detective, a police officer, and retired Army officer.
Navejas was charged with resisting arrest in 2013, driving while intoxicated in 2016, and aggravated assault in 2018.
During the Obama administration, ICE did not consider driving while intoxicated to be an offense serious enough to warrant deportation, so agents did not try to arrest and deport him. They adopted this policy despite the fact that drunk driving kills 10,000 people in America every year.
...article continued below
The Obama administration granted Navejas DACA-approved status in 2013, but the permission to remain illegally in the United States expired in 2015.
Later, Navejas gained conditional permanent resident status, which prevented immigration officials from deporting him following the arrest for "pinning a man with a vehicle in a parking lot, physically assaulting him, and biting off a portion of his ear," according to the letter.
The senators asked the immigration directors to respond to their questions by Sept. 17.
"Media reports indicate that Mr. Navejas' conditional permanent resident status expired in January 2019," they wrote. "Upon the termination of conditional lawful permanent residency, what measures does USCIS exercise in referring criminal aliens to ICE for enforcement action due to a change in status to that of unlawful presence in the United States?"
RECENTLY: 
How To Tell An Alcoholic Co-worker By Their Body Language
Some Illegal Aliens To Get $500 Stimulus Checks
Mexican Migrants Caught Buying, Selling Fake Rx
ALSO ON HEADLINE HEALTH TODAY: Tom Seaver, 75 | Florida Man Spends $689K In Virus Cash On Boat | Grim Reality of Reopening: Unhealthy Mold