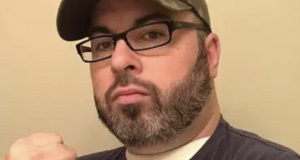 "[T]his whole [coronavirus] thing was engineered by Jews as a power grab … " – Timothy Wilson
FBI: Bomb suspect dead after warrant served
BELTON, Mo. (AP) — A man fatally injured by the FBI was planning a bomb attack on a medical facility in the Kansas City area, the agency said in a news release Wednesday.
Timothy Wilson, 36, was injured Tuesday when FBI agents served a probable cause arrest warrant in Belton after a long-running domestic terrorism investigation, according to a statement Wednesday from Timothy Langan, special agent in charge of the FBI's Kansas City office.
The statement did not detail what happened when agents served the warrant, but said Wilson was armed when he was injured and died later at a hospital.
A monthslong investigation determined that Wilson was a potentially violent extremist, motivated by religious, racial and anti-government beliefs, according to the statement.
...article continued below
He had planned for several months to carry out a bombing and decided to target a Kansas City-area hospital using a "vehicle-borne" improvised explosive.
Wilson chose a hospital that was providing critical care during the current coronavirus pandemic and had taken steps to acquire materials to build the bomb in an attempt to cause "severe harm and mass casualties," according to the statement.
The FBI's Joint Terrorism Task Force kept close watch on Wilson and was prepared to arrest him when he tried to pick up what he thought was a bomb, although there was no bomb, the statement said.
The FBI worked with federal prosecutors in the U.S. Attorneys office in Kansas City during the investigation. No further details were released.
"A man suspected of plotting to blow up a Missouri hospital and was killed in a shootout with FBI agents was apparently frustrated with local government action to stop the spread of coronavirus, the FBI said Wednesday." – NBC News 
Man Planned to Bomb Hospital During COVID-19 Crisis: FBI
...article continued below
Mar 25, 2020
Heavy.com –  Timothy Wilson, who died in an FBI shootout in Belton, Missouri, was planning to bomb a hospital providing "critical medical care" during the current coronavirus health care crisis, according to a statement from the Federal Bureau of Investigation.
Wilson felt compelled to act when the Belton mayor issued a stay-at-home order to deal with the COVID-19 outbreak, The New York Times reported.
The Informant's Nick R. Martin has unearthed social media posts he says were made by Wilson on Telegram channels using the handle Werwolfe 84; according to Martin's research, Wilson was "an admirer of the 1980s terrorist group The Order" and was linked to "two active neo-Nazi organizations," the National Socialist Movement (NSM) and Vorherrschaft Division (VSD).
Elon University computer science professor Megan Squire helped Martin with the research.
According to Martin, Wilson was active on Telegram on Tuesday, March 24, writing that he thought the government was using coronavirus as an "excuse to destroy our people," adding, "Mark my words it's coming I hope people are ready."
He also commented on COVID-19, according to Martin, writing, "If you don't think this whole thing was engineered by Jews as a power grab here is more proof of their plans. Jews have been playing the long game we are the only ones standing in their way."
In the March 25, 2020 statement, the FBI revealed that it had executed a probable cause arrest the day before for Timothy Wilson, 36, at the 100th block of Wilbur Parish Circle in Belton, Missouri.
That action came "at the conclusion of a long-running domestic terrorism investigation," the FBI wrote.
FBI agents went to arrest Wilson, who was armed, when Wilson "was injured and transported to an area hospital where he was later pronounced deceased," according to the statement from the FBI. The New York Times reported that Wilson was killed in a shootout with FBI agents. It's not clear whether he died at his own hand or was shot by the agents. Read more.