HEADLINE HEALTH – It's no secret that the monkeypox epidemic is the direct result of the normalization of anal sex and homosexual lifestyles. It's just that you've not supposed to talk about it.
While the mainstream media will sometimes use euphemisms to allude to this fact, they'd much rather talk about the bogeyman that seems to be to blame for every one of humankind's current problems — climate change.
In a September 29 article titled "Zoonotic diseases like COVID-19 and monkeypox will become more common, experts say", NPR quotes clinical researcher Dr. Carl Fichtenbaum of the University of Cincinnati:
"I think right now, much of the climate change focus has been focused on, 'Well, this is bad for the environment, and we're going to see floods, and we're going to see heat waves, and this may affect economic survival.' But people aren't always looking at it in terms of health and human disease, which is very costly."
The page uses the word climate nine times and mentions sex just once. That mention links to an audio broadcast in which an NPR reporter perfectly explains why the real cause of the spread of monkeypox — anal sex among men — is barely mentioned: "Experts don't want to stigmatize gay and bisexual men."
...article continued below
Which sounds extremely similar to recent efforts to recast pedophiles as "minor attracted persons."
Of course it's not just NPR but nearly the entire mainstream media that's pushing the climate change narrative rather than "stigmatize" the actual culprits of monkeypox.
A Washington Post piece on Sept 1 follows the same script as NPR. Under the heading "Covid, monkeypox, polio: Summer of viruses reflects warming trends", WaPo reports:
"A warming climate, vanishing forests and global travel have accelerated the spread of pathogens from animals to people, as well as among people in different parts of the world."
The story contains not a single mention of gay sex.
...article continued below
Do a Google search for 'monkeypox climate change' and you'll get tens of millions of hits: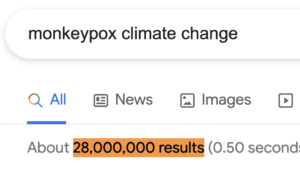 Repeat the search for 'monkeypox anal sex' and the results fall to under half a million: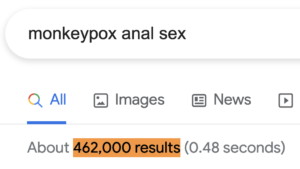 462,000 is still a big number, but the fact remains that there are 60 Google search results for monkeypox linked to climate change for every result discussing the real cause, homosexual encounters.
These are not just numbers about how news is reported — instead the data gets to the very heart of the monkeypox pandemic. Too many media outlets would rather dish out fake news than "stigmatize" anal sex and those who practice it, over and over again with total strangers, as often as they can 'hook up.'
The truth does occasionally break through the clutter, as often as once in 61 times apparently. As The Guardian reported on July 27:
"The head of the World Health Organization has advised men at risk of catching monkeypox to consider reducing how many sexual partners they have 'for the moment'."
Not a bad suggestion. Here's a better one: put that thing away.