Fox News – Kate Coyne-McCoy, the chief strategist of the Rhode Island Democratic Party, faced swift criticism late Monday over a tweet about Sen. Lindsey Graham's COVID-19 diagnosis.
The Republican from South Carolina—who had been fully vaccinated—announced earlier in the day that he came down with flu-like symptoms on Sunday.
He said he was diagnosed with the virus on Monday by the House physician. His symptoms are mild and he said he will be quarantining for 10 days.
Coyne-McCoy took to Twitter and posted:
"It's wrong to hope he dies from Covid right? Asking for a friend." 
...article continued below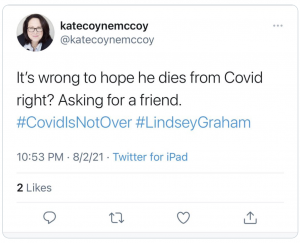 Even at a time when the political divide in the country seems like it could not get any deeper, posts hinting at the death of a political opponent seem to cross an imaginary line of civility.
But individuals who tweet out these posts have often weighed the risks and have determined that they play to their base …
Graham's COVID 'breakthrough' case jolts Senate
BY JORDAIN CARNEY – 08/02/21
THE HILL – The coronavirus officially returned to the United States Senate on Monday.
...article continued below
News that Sen. Lindsey Graham (R-S.C.) tested positive quickly jolted through the Capitol and sparked an hours-long scramble to figure out who else might have been exposed, which only escalated after sources confirmed that the South Carolina Republican attended an outdoor event on Sen. Joe Manchin's (D-W.Va.) houseboat over the weekend with other senators.
Graham's "breakthrough" case, the first known instance among senators, comes as the chamber has largely loosened social distancing restrictions in recent months, with at least 96 of the 100 senators vaccinated.
Though the Capitol physician has recommended mask wearing regardless of vaccination status, most Republicans have not been wearing them, and even some Democrats would remove them while hobnobbing on the floor with their colleagues.
It also comes as the Senate is embarking on a tense slog of legislating: It is currently debating a bipartisan bill, which Graham has been helping advance, before Democrats turn to a budget resolution and then leave for a weeks-long break.
"Y'all OK? Nobody's sick?" a masked GOP Sen. Richard Shelby (Ala.) asked reporters as senators came to the Capitol for the first vote after news of Graham's positive test result.
Asked why he decided to wear a mask, Shelby said, "Why do you think? I'd like to stay healthy. … I was in the room the other day with Lindsey when we were meeting with [Senate Minority Leader Mitch McConnell (R-Ky.)]. So you don't know."
Though the Senate didn't vote this weekend, Graham was in the Capitol on Monday and briefly spoke with reporters. In a move that didn't go unnoticed, the normally chatty GOP senator appeared to be in a hurry and was wearing a mask — an unusual move for the largely maskless Senate GOP caucus.
"I'll talk to y'all later," he told reporters … READ MORE.