Sources: State and county officials, NBC News
NBC NEWS, Feb 10, 2021
The omicron variant is now fueling a wave of Covid-related deaths.
Average deaths have plateaued at close to 2,600 a day, the highest level since February 2021.
During the delta variant peak, deaths averaged more than 2,000 a day for nearly two weeks. Omicron has exceeded 2,000 deaths a day for three weeks now.
...article continued below
While daily case counts are declining in most of the country, reported deaths are increasing in nearly three dozen states and territories.
Two-week death counts have more than doubled in Florida, Hawaii, Mississippi, South Carolina and Virginia, as of Wednesday.
Twenty-three states and territories have seen a greater than 25 percent increase in reported Covid deaths …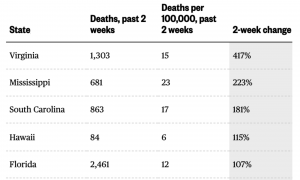 SEE MAP AND CHART FOR ALL 50 STATES
...article continued below
NBC News is tracking ICU stress levels, hospitalization rates across the country, Covid case surges in each state, vaccination rates nationwide and whether the CDC recommends indoor masking in the county where you live.