"We Won't Eat Sh!t Salad": Saying 'No' To Romaine
The e. coli source no one wants to talk about: migrant farm workers | Outbreak spreads to 29 states
(Headline Health) Consumers are reacting to the never-ending romaine lettuce-e.coli epidemic in the only way possible: they are refusing to eat salad. The outbreak now extends to 29 states … details below.
California lettuce producers report a sharp fall-off in demand for their product. "Markets are depressed and prices have dropped significantly," says a spokesman for Oxnard, CA-based Pacific Fresh Produce.
In addition to farmers, another industry being impacted is dining.
The first reported cases in the current e.coli outbreak came from eight Panera Bread locations in New Jersey. According to CBS News:
"At least 64 people in 16 states have been infected with the same strain of E. coli linked to romaine lettuce.  About half — 31 of them — have been hospitalized.
"The CDC says most people develop symptoms like diarrhea, severe stomach cramps, and vomiting, and recover within a week. But five people sickened in this outbreak have suffered from a form of kidney failure called hemolytic uremic syndrome (HUS).
"'What's concerning me at this point is there's an unusually high hospitalization rate," said Bill Marler, a food safety lawyer.
"He represents Louise Fraser, who is suing Panera Bread, claiming she contracted E. coli after eating romaine lettuce at one of their restaurants in New Jersey and, as a result, was hospitalized for weeks. She says she was diagnosed with kidney failure, which required several blood transfusions. She's now suing both the restaurant and its supplier, Freshway Foods, Inc.
"'The restaurant, the grocery store is responsible for any of the food that they sell you," said Marler. "If it is contaminated with a pathogen, it's defective. The chain of distribution that supplied that is ultimately responsible."
"Panera Bread officials told CBS This Morning they don't comment on pending litigation, but said they 'have re-supplied with romaine from other regions.'"
Subway closing hundreds of stores; food poisoning reports mount 
One national chain serves lettuce in more locations than any other: Subway, with about 26,400 stores in the United States.
The crowdsourced food safety website iwaspoisoned.com has dozens of reports from consumers who say they've come down with food poisoning after eating at Subway in recent weeks. Diarrhea, fever, nausea, and vomiting are commonly reported symptoms. Subway recently reported it will close hundreds more stores in the U.S. this year due to declining sales.
As previously reported on Headline Health, lettuce is a real concern at Subway; some store managers have admitted that they refuse to eat the lettuce they serve in their own stores.
All told, iwaspoisoned.com has more than 125 reports from all locations mentioning lettuce in the past 30 days.
"Who crapped in my salad?"
While officials remain silent over the source of the outbreak, a review of news coverage of past outbreaks clearly identifies a source that neither government officials nor supply-chain companies want to publicly acknowledge: migrant farm workers defecating in the fields.
As we previously reported, a 2006 article in the San Francisco Gate ["New focus on field sanitation / E. coli contamination puts spotlight on outdoor facilities" Sept. 23, 2006 ] shined a light on a dark secret that was hidden for years from US consumers: a significant number of migrant farmworkers are habituated to open defecation. The newspaper reported:
"Workers [are known] to relieve themselves in out-of-the-way corners of the fields."
In spite of the availability of toilets for most farmworkers, the state of California "issued 143 citations for sanitation violations in the fields in 2005."
One farmworker representative told a reporter, "Our guys do have potties, and because of our contracts we check the bathrooms. Other (employers) may not be so careful."
What crops are involved? The reporter developed the story by speaking to a farmworker "after finishing his shift picking heads of romaine."
While US employers and agencies have taken significant steps to increase farmworker access to toilets since 2006, they can't control what still goes on on Mexico, where many migrant workers were born, raised, and return to when the harvest season ends. A study by the World Health Organization found that 5.5 percent of the rural population of Mexico was still practicing open defecation in 2015.
Continued coverage below …
Growers feeling impact
(Fresh Plaza) California based growers of romaine are now being impacted by the fallout from the outbreak. Consumers are avoiding romaine and the dumping order by the CDC has resulted in retailers being cautious.
"It has definitely slowed down movement," said John Paul Oliver of Oxnard-based Pacific Fresh Produce. "Reports on the news and the investigation by the CDC has resulted in the dumping of romaine lettuce and as a result, the markets are depressed and prices have dropped significantly. All of the California growing regions are affected, from Oxnard to Salinas as well as Santa Maria, despite the fact that the infected lettuce originated in Arizona."
Oliver noted that consumers are rightfully asking question about the origins of the lettuce they are eating, but he said it's not always that easy. "It can be difficult for consumers to know where their lettuce is coming from," he said. "This is especially the case in places such as restaurants and salad bars where there is very little labeling."
He added that it will take time for the public to regain confidence in buying romaine lettuce. "The passing of time and the release of correct, valid information from the government organizations overseeing it, will help," he said. "Once the public understands that it is safe to consume romaine lettuce again, will we have a return to a steady market." Read the full story at Fresh Plaza.
E. Coli Outbreak Linked To Romaine Lettuce Spreads To 29 States
Illnesses linked to a deadly E. coli outbreak in romaine lettuce are continuing to rise, with 28 additional people found to have been sickened by the bacteria since last week, bringing the total to 149, health officials said.
As of this week, people in 29 states have fallen ill from consuming tainted lettuce traced to the Yuma, Arizona, region, the Centers for Disease Control and Prevention said on Wednesday. Investigators have failed to determine a more precise source of the bacteria, which is transmitted from human or animal feces.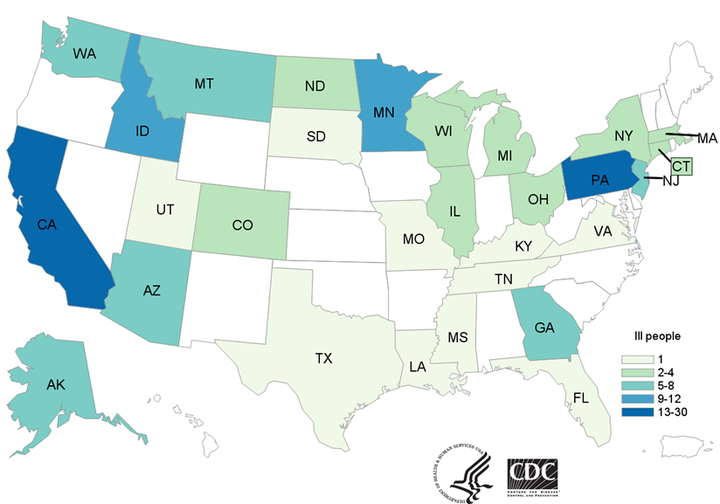 Florida, Minnesota, North Dakota and Texas are the latest states reporting illnesses since the CDC's previous update on May 2. The full list of states can be seen here, or in the official CDC map above.
"Do not eat or buy romaine lettuce unless you can confirm it is not from the Yuma growing region," the CDC warned. "Romaine lettuce has a shelf life of several weeks, and contaminated lettuce could still be in homes, stores, and restaurants."
This advisory includes whole heads and hearts of romaine, chopped romaine, baby romaine, organic romaine, and salads containing romaine lettuce.
"If you do not know if the lettuce in a salad mix is romaine, do not eat it," the CDC advises. Read the rest of the story at Huffington Post. 
RELATED COVERAGE FROM HEADLINE HEALTH: 
So Long, Footlong | More Subways Closing
"Who crapped in my salad?" Officials Can't Pinpoint E. Coli Source
Romaine Lettuce-E. Coli Outbreak Spreads
"Lettuce" Count The Ways Washington Has Failed Us